Ahoy, mates! The quest for our monthly gastronomic adventure is becoming interesting. Like pirates discovering new islands and shores, we took a detour at Blackbeard's Seafood Island Restaurant. Conveniently located inside the Ayala Center Cebu and a walking distance from our current office, this made the majority's yay. The place is a unique alternative for big groups with big appetite — this really is for us!
When we arrived, we were greeted by their courteous staff and with their smiles, we knew were in for an exciting treat. Before we reached the table, three huge aquariums were displayed with live fishes, huge crabs, and shellfishes. Food is really inviting when you know it is served fresh.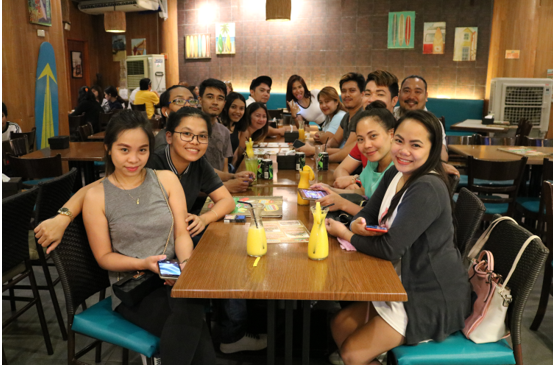 The calm before the storm (of food). Everyone looked dazzling and in the mood!
Talking about the ambiance, the colors of the interiors and ornaments mimicked the beach. With the surfboards up and in the ceiling, it exquisitely completed the island vibe.
This month's team dinner is way different from the previous eat-outs we've had where we visited all-you-can-eat restaurants around the metro. Being in a tropical island like Cebu, seafood is a staple unless one is allergic to it. Fret not non-seafood fans, Seafood Island (though the name suggests mostly seafood are being served) offers boodle feasts with well-balanced surf and turf.
They took it to another level by presenting each set in a creative, playful and mouth-watering way. The menu was captivating as each boodle feast is named after a place/island in the Philippines. It's like island hopping and tasting the treats each place has to offer — definitely a great way to promote food, culture, and tourism!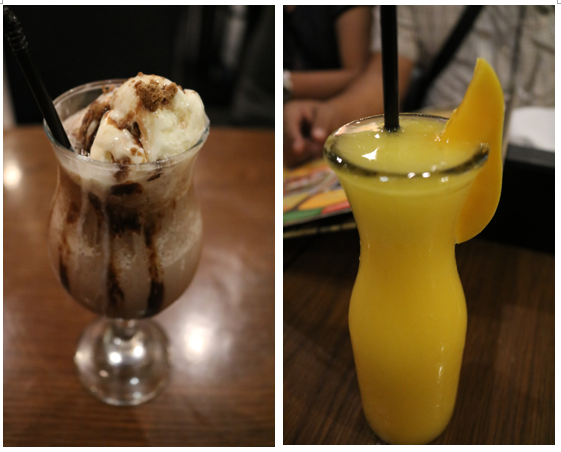 Shake, slobber and drool! The ripe mango and surfer's chocolate shakes will keep you cool.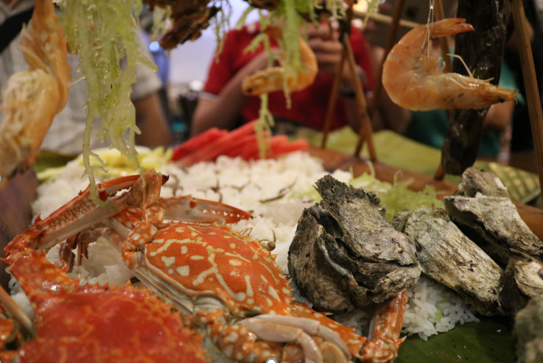 The Tali Beach. A seafood feast with hanging shrimps and freshly harvested seaweeds. It was worth the wait indeed.
Boodle fight style of dining is famous in military distinguished by long tables prepare with food usually viands, rice and fruits that are ready to eat with bare hands. It's pretty nostalgic to those who had Citizens Army Training or Reserve Officers' Training Corps in their collegiate years.
We hurriedly washed our hands and prepped ourselves for eating time. While the food trays were served, some of us can't help but grabbed a bite at the food seemed to be calling our hungry stomachs.
Whilst pictures were taken for blog purposes, the rest of us were so eager to start the fight (the Boodle fight that is). With growling bellies, we patiently waited for it to finish. When the food feast commenced, we delved in and devoured the food we ordered.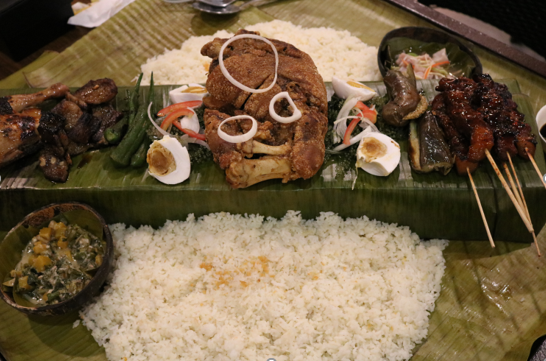 Meaty Madness. With of all these paired with garlic rice, it tasted really nice.

Fresh fruits sliced to perfection compliments the sea's bounty. A perfect combination!
We hopped from one table to another getting portions of seafood and meat. On that night we forego our diet regimen and thought of it as a cheat day. Calories are piling up but with determination (fingers' crossed), we can burn the fats gained come next day.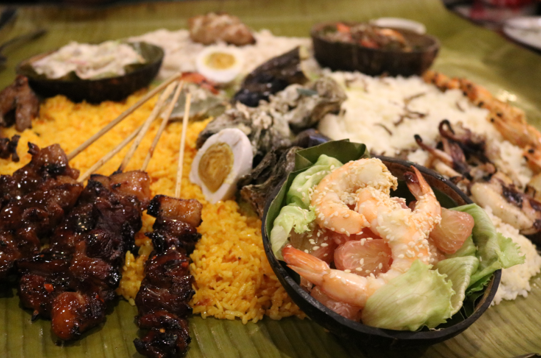 The Davao Gulf. We couldn't help but salivate with this set. The shrimp pomelo salad gave a twist to this hefty treat.
The bountiful food tasted great and definitely worth the wait. Truly, it was satisfying! Burped here and there. A proof that everyone's appetite was satiated.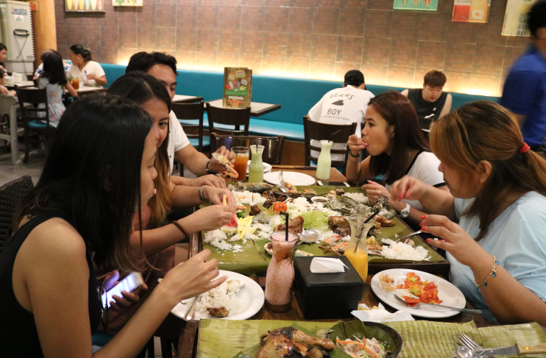 Savoring the goodness of the tradional Filipno Kamayan (eating with bare hands) feast over banana leaves.
Indeed, good food is best enjoyed with great conversations. Gatherings as simple as this, makes room for catching up stories and sharing of life events. It was another fun-filled night and the pictures below will give you a glimpse on how the night went with all the food we ate.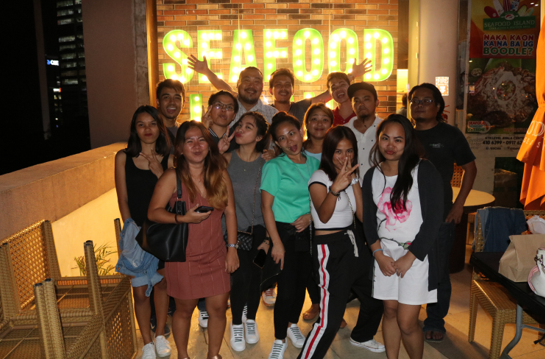 A perfect night cap is taking a wacky picture in a snap.
As the saying goes "No man is an island", it holds true to the culture of family we have in Truegenics-Cebu. With a family like ours, no one is left behind. We may come from different islands but having the same goal with a unified direction is what we aim to have — unity amidst diversity. And with our TLs Marvin and Banjo as captains of our ship, for sure, it'll be smooth-sailing.
Till our next food trip!