With their distinctive menu, prime location and snazzy name, TG headed on over to The Hashtag Café for our April company lunch!
Located in the heart of Bugis, this quaint shophouse café amazingly managed to hold 60 or so of us comfortably.
Our previous halal lunch was in commemoration of Chinese New Year, which had an assortment of food on a buffet spread – perfect for us to gorge down on mercilessly.
This time, however, we had the chance to pre-order our foods. And while some of us stuck to classic dishes like Fish and Chips and Salmon, others went for more 'memorable' dishes: like their Poulet Supreme and Samyang Spaghetti.
While they were busy preparing our food, they served us a couple of light snacks to warm up our bellies. With appetizers like Crispy Chez Wantons and drinks like Lychee Rose Slushee, their dishes were unique, to say the least. They gave us a nice prelude for what to expect with the main course meals, amidst the hearty catch-ups we had with our colleagues.
These early dishes garnered some mixed reactions, though. While the wanton and cream cheese combination may have rubbed some people off the wrong way, their fried winglets were more 'traditionally Western' – great for those who wanted something a little more conventional.
These mixed reactions carried over to the main dishes as well. Their Poulet Supreme faced a few negative reviews (but Syaz from Content Team insists that it tasted great!), whereas other dishes like the Salmon had raving fans right away.
Even though the verdict on their taste wasn't unanimous, their portion sizes definitely more than made up for it – with a few of us were struggling to even finish our meals (getting back to work-mode may have been a struggle for some).
Overall, The Hashtag Café sufficiently stuffed us with memorable foods and a unique experience – ingredients for a great company lunch.
We were a little tight on space, but that didn't stop us from taking our mandatory company photo!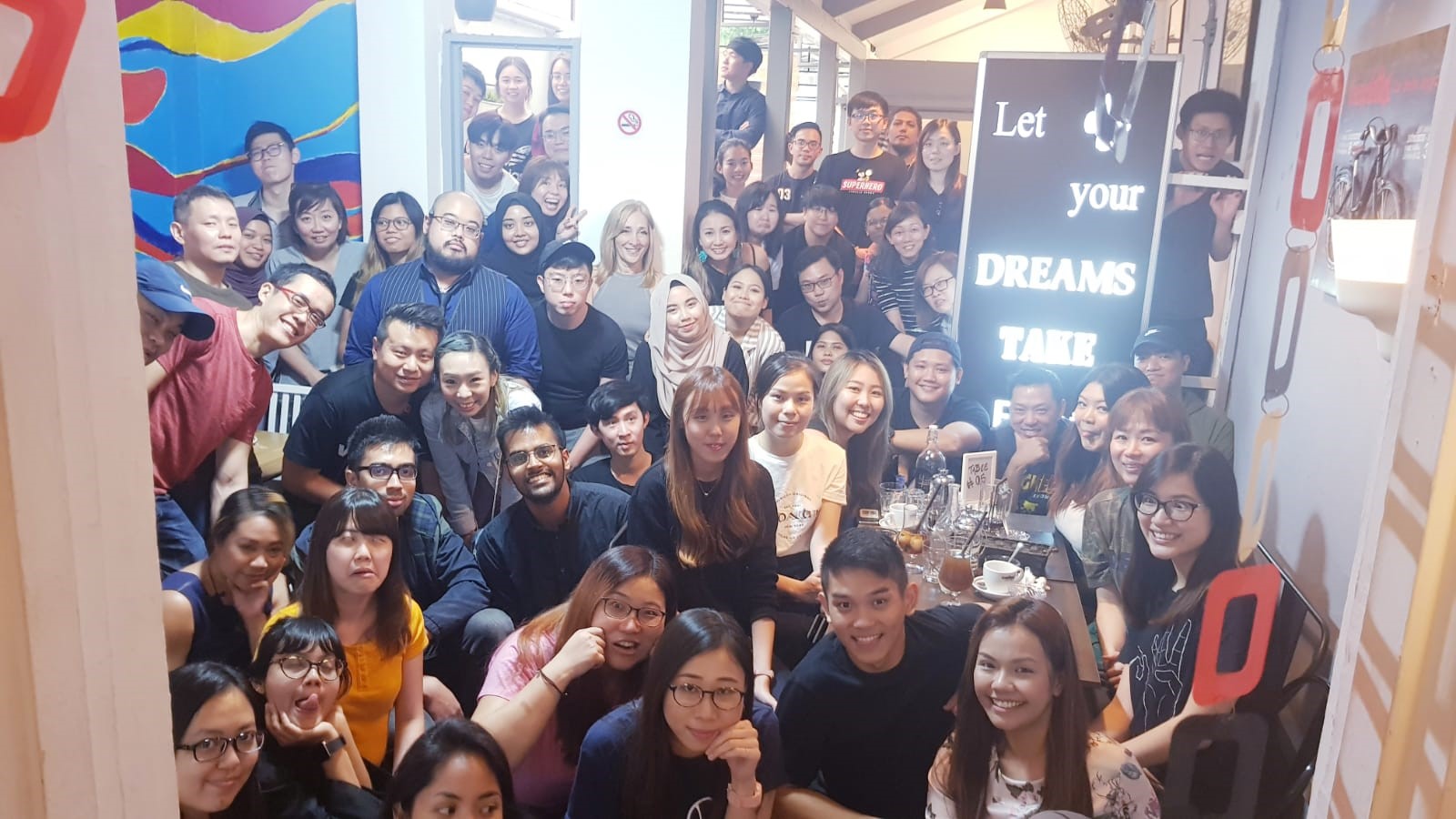 Yes, the photo is that important to us